Event Review: Tal Y Llyn Swimrun by WeSwimRun (2023)
Lucy Young reports from the 2023 edition of the Tal Y Llyn swimrun
Tal Y Llyn is a great event for those wanting to try their hand at Swimrun for the first time and for more experienced competitors who are simply keen to explore this beautiful part of Snowdonia National Park. With just 32 participants this year the event felt exclusive, and we instantly knew we were in for a treat. Most of the entries were solo but teams were welcome, and they were certainly competitive! A number of this year's starters were back for a second year, which is always a great sign, but a significant proportion were first timers and Mike, the driving force of WeSwimRun and a successful competitor himself, soon put them at their ease.
The pre-race route information was meticulous and clear, and Mike was keen to set an inclusive tone. Unlike other events, he hadn't put a cut off time on this one. Faster competitors were aiming for 1 hour 20 mins while those taking in the scenery towards the back could expect to take about an hour longer. Last minute changes were needed this year due to a thunderstorm rumbling in but luckily, Mike was adaptable and unflappable on the day. This event is considered a 'sprint distance' with a total of 9.8k to run on trails and mixed terrain and 2k of swimming in a glacial ribbon lake – with 'glacial' here referring to how the lake was formed rather than the water temperature, which was a comfortable 20 degrees on the day. There are 5 run sections and 4 swims so 8 transitions in total, plenty of fun and lots of opportunity to hone your skills for future events.
The race started in the Dol Idris Natural Nature reserve with a 2800m run along trails, through the campsite where many competitors had stayed overnight, and along the road for a short stretch before turning off to splash through a ford and across marshland which took us down to Tal Y Llyn. Our first swim was a 700m stretch along the length of the lake, but we had to wade the first section with the mud trying to suction our shoes until it got deep enough to swim. The next run was just 750m along the road by the edge of the lake and this took us to a matted jetty down to the water for a 300m swim to the other side. Once we'd navigated that, we were onto the longest and most challenging section of the course; a 3500m run along winding trails which took us up 'Agony Hill' to a breathtaking view of the lake and down the other side. With that section of the course behind us, we simply needed to retrace our steps and our swims back to the Nature Reserve. Knowing what was in store certainly didn't detract from the fun. In fact, the shifting fortunes of runners and swimmers early on in the course made the return section even more competitive as we knew where we needed to gain ground!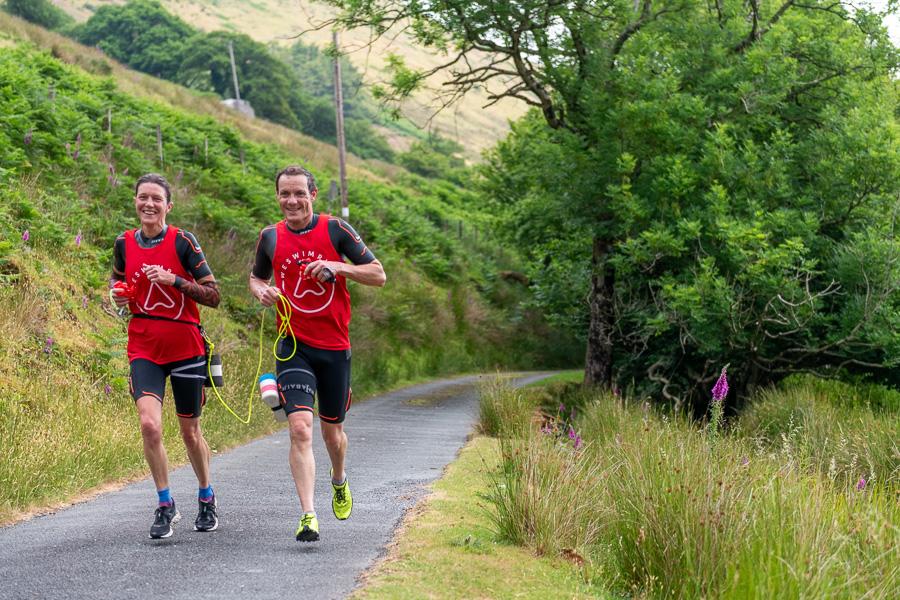 The finish line is always a welcome sight but perhaps more so for those competitors caught in the thunderstorm this year. They certainly felt like they'd embraced the adventure and achieved something impressive with the elements throwing additional challenge into the mix. There were refreshing slices of watermelon plus a can of Tal Y Llyn lager for race finishers, which was a lovely local touch. Jars of local honey were also a prize option and that added to the charm of the event. Last year's winner described this event as one which 'captures the spirit of Swimrun' and, having embraced the challenge this year, I couldn't agree more.
Find out more: https://www.weswimrun.org/
Do the double
In 2023, WeSwimRun Tal Y Llyn took place on Sunday 18 June. The day before, Love SwimRun held their Llanberis swimrun. This is a longer and more challenging event less than an hour away from Tal Y Llyn, and well worth doing. If the dates align in future, why not do both?
Images supplied by WeSwimRun