Event Review: South East Swimrun Series Race 1 – Ham, Richmond
It's a long time since I've done a race that included scrambling up a cargo net. It was probably about 50 years ago, when my mum organised a pirate party. It was fun then, and it's still fun now.
The cargo net in question this time was at the exit from the first swim section of Run Surrey Hills' swimrun at Thames Young Mariners, in Richmond. Knowing it was there meant a tactical decision needed to be made. Normally we'd start a swimrun at a steady pace but we set off fast from the whistle, aiming to be among the first to reach the net. Those arriving later would be held up if other competitors were already on it. But we weren't the only people to have this dazzlingly brilliant idea and the start was a little manic. It all added to the fun but did leave us gasping for breath after just a few minutes of racing. We could have been sensible, swam calmly, let other people get there first, and been held up for 5 seconds or so – but I never considered that as a serious option.
After hauling ourselves out of the lake like pirates escaping from sharks we had a short run of around 50m followed by a 2m drop back into the water. The recommended option – and the quickest – was to jump, a bit like walking the plank. For the more cautious, there was a ladder. If you do this event and jump, make sure your goggles are secure as a couple of people lost theirs.
We now had an 850m swim around almost the full perimeter of Ham Lake. Ham Lake is a pretty former gravel pit connected the Thames via a set of lock gates. It's surrounded by Ham Lands Nature Reserve and for a while was home to curious seal. Canada and Egyptian geese, and mallard and mandarin ducks, all live here. A grey heron flew over us at the second turn buoy. There are, apparently, seven species of bat in the surrounding trees along with badgers and foxes but we didn't see any.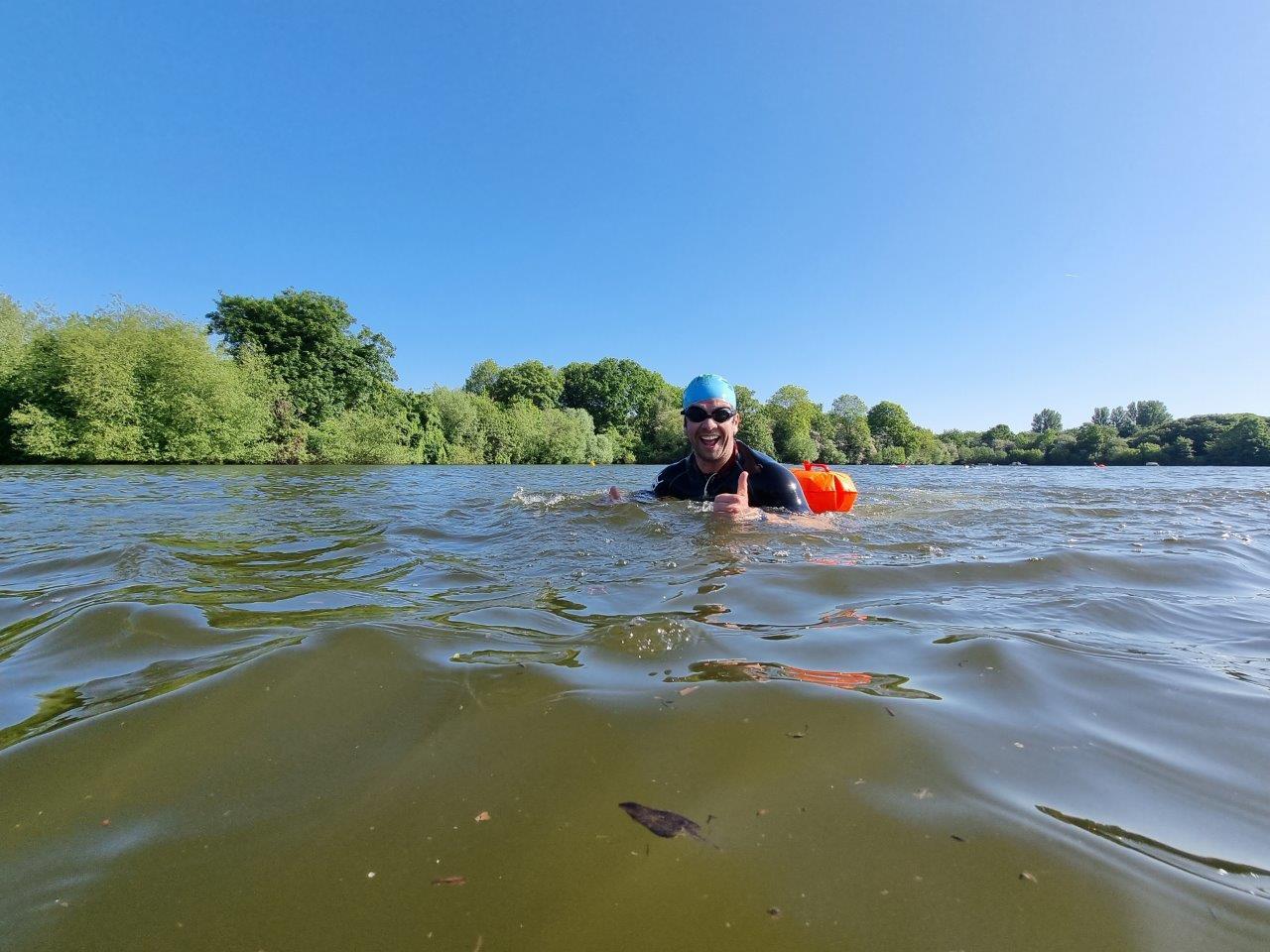 The second swim exit is easier than the first but is immediately followed by a short ramp. Take care here if your legs are wobbly from swimming as the ground under the water is uneven. We then set off on the main run section, a 1.8km dash that took us out of Thames Young Mariners, along the Thames footpath and then through Ham Lands. The surprise on this section was a knee-deep swamp to wade through. I expected Shrek to show up. Swamp-wading isn't something I'd normally do on a Sunday morning but as part of this swimrun it felt entirely appropriate.
We then did it all again for a total distance of around 5km. There was also the option to do a single lap.
This event (and the others in South East Swimrun Series) are firmly aimed at beginners and the organisers go out of their way to create a welcoming and supportive atmosphere. It's also a great early-season practice race for more experienced swimrunners. It's fun and adventurous without being too taxing. Most of the running is on flat easy trails and the lake is calm and sheltered. It can be done solo or as a team of two. With swimming making up almost half of the total distance, this is the most swimmer-friendly swimrun I've ever done. There is free parking on site and changing rooms and showers. And if you want coffee and breakfast after then Teddington High Street is just a 20-minute walk away.
Check out future events by Run Surrey Hills